Access to safe drinking-water
This indicator presents statistics on the population who have access to safe drinking-water in Aotearoa New Zealand. Access to safe drinking water is measured by access to drinking-water that complies with bacteriological, chemical and protozoal standards. Boil-water notices may be issued to residents if there is a risk of microbial contamination in drinking water.
Factsheets and Metadata
What is 'safe' drinking-water?
Safe drinking-water is vital for human health. The presence of microbes or chemicals in a drinking-water supply may render that water unsafe to drink. Water that is contaminated with pathogens may cause diseases, particularly gastrointestinal diseases. These waterborne diseases can cause diarrhoea and vomiting. Careful selection of the source and treatment of drinking-water supplies can ensure the water is safe to drink. Registered drinking-water supplies in New Zealand must be regularly tested for microbiological and chemical compliance with the Drinking-water Standards for New Zealand.
Whether or not a drinking-water supply complies with the Drinking-Water Standards is based on three measures (Ministry of Health 2022):
Bacteriological compliance is determined by monitoring whether a supply contains coli or similar bacteria.
Protozoal compliance is determined by whether water treatment processes have resulted in an acceptable level of inactivation and/or removal of protozoa such as
Chemical compliance is determined by the adequacy of monitoring chemical hazards in the water and whether these chemicals exceed a level that would pose a health risk to people.
A 'boil-water notice' may be issued to residents by a supplier if there is a heightened risk that tap water may have microbial contamination, and therefore not safe to consume. The notice indicates that tap water may not be safe for consumption and must be boiled before use. A Temporary boil-water notice is issued if there is a short-term heightened risk, as can happen following extreme weather events. A Permanent boil-water notice indicates an ongoing heightened risk of microbial contamination.
Access to compliant drinking-water supplies
Approximately three-quarters of New Zealanders on registered supplies received safe drinking-water that met all three standards for compliance.
Figure 1: Percentage of population on registered community drinking water supplies with access to safe drinking water, 2010–2021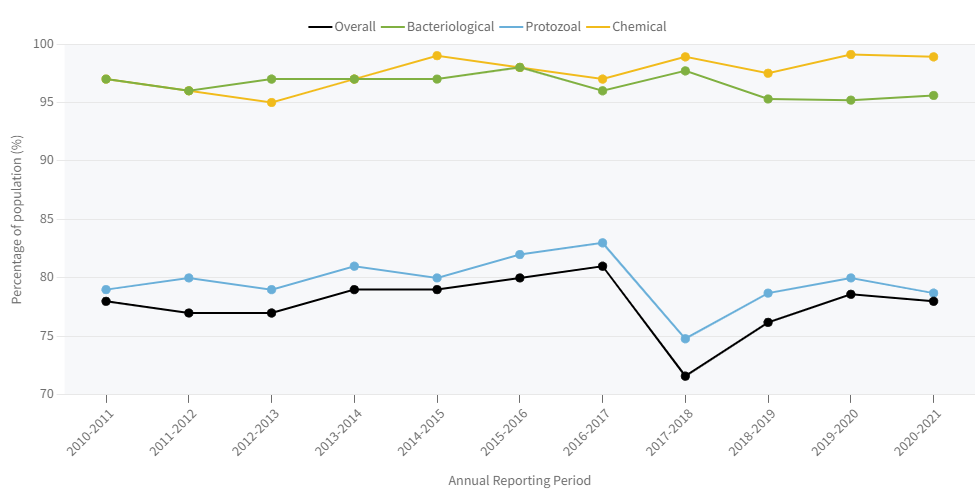 Source: Ministry of Health
Information about this indicator
The datasets for this indicator come from the Ministry of Health Annual on drinking water quality reports. Drinking water statistics are presented for all registered community drinking water supplies that served more than 100 people.
References
Ministry of Health. 2022. Annual Report on Drinking water Quality 2020–2021. Wellington: Ministry of Health.

Smith, A H, Goycolea, M, Haque, R, & Biggs, M L. 1998. Marked increase in bladder and lung cancer mortality in a region of Northern Chile due to arsenic in drinking water. American journal of epidemiology, 147(7), 660-669.

Robinson B, Clothier B, Bolan N, Mahimairaja S, Greven M, Moni C, Marchetti M, Dijssel C, Milne G. 2004.
Arsenic in the New Zealand environment. URL: https://www.researchgate.net/publication/228591523_Arsenic_in_
the_New_Zealand_environment (accessed 6 August 2021)