UV levels
This section contains information on UV Index levels in New Zealand.
Highest UV levels are during summer
In New Zealand, UV levels are highest during summer, but are also relatively high in spring and autumn. UV levels are higher in the north of the country.
The tables below show the monthly mean and peak UV Index levels at solar noon, in five areas of New Zealand. The mean (average) UVI level includes cloud cover, while the peak (maximum) UV levels represent cloud-free conditions. UV Index levels of 3 or more require protection from the sun.
Table 1: Mean UVI in New Zealand (averaged over one hour at solar noon)

Table 2: Peak UVI (cloudless conditions) in New Zealand (averaged over one hour at solar noon)

Source: McKenzie 2008 [1]
For more information on interpreting the UV index, see information about the data below.
Factors affecting UV levels
Year on year, the same patterns in UV levels by season usually emerge. The major factors that affect UV levels are:
seasonal changes – higher UV levels usually occur in summer, when the southern hemisphere is tilted towards the sun, and the sun is higher in the sky
day-to-day variation in cloud cover.
concentration of ozone in the atmosphere
UV levels tend to be higher in autumn than in spring, as ozone levels are lowest (most depleted) in autumn, and highest in spring.
However, NIWA research has found only small long-term changes in UVI due to ozone depletion since the 1990s. Cloud cover and seasonal variation in sun angle were more dominant factors in UV levels than ozone levels in the past 20 years [2].
New Zealand has high UV levels in contrast to other countries
Summertime UV levels are higher in New Zealand than at similar latitudes in the northern hemisphere [2]. However, other countries in the southern hemisphere have higher UV levels than New Zealand. The following countries have higher UV levels: Peru, Bolivia, Chile and Argentina [3].
New Zealand's high UV levels contribute tot he country having one of the highest melanoma incidence rates in the world. Read the latest statistics about melanoma on the melanoma webpage.
Information about the data
UVI levels
Source: NIWA [1]
Definition: The UV Index is an international, scientific measure of the level of UV radiation from the sun. The UV Index is based on erythemally weighted irradiances (i.e. sun-burning irradiances), published by NIWA. The higher the number on the UV Index, the higher the radiation level.
Table 3: UV index levels and sun protection precautions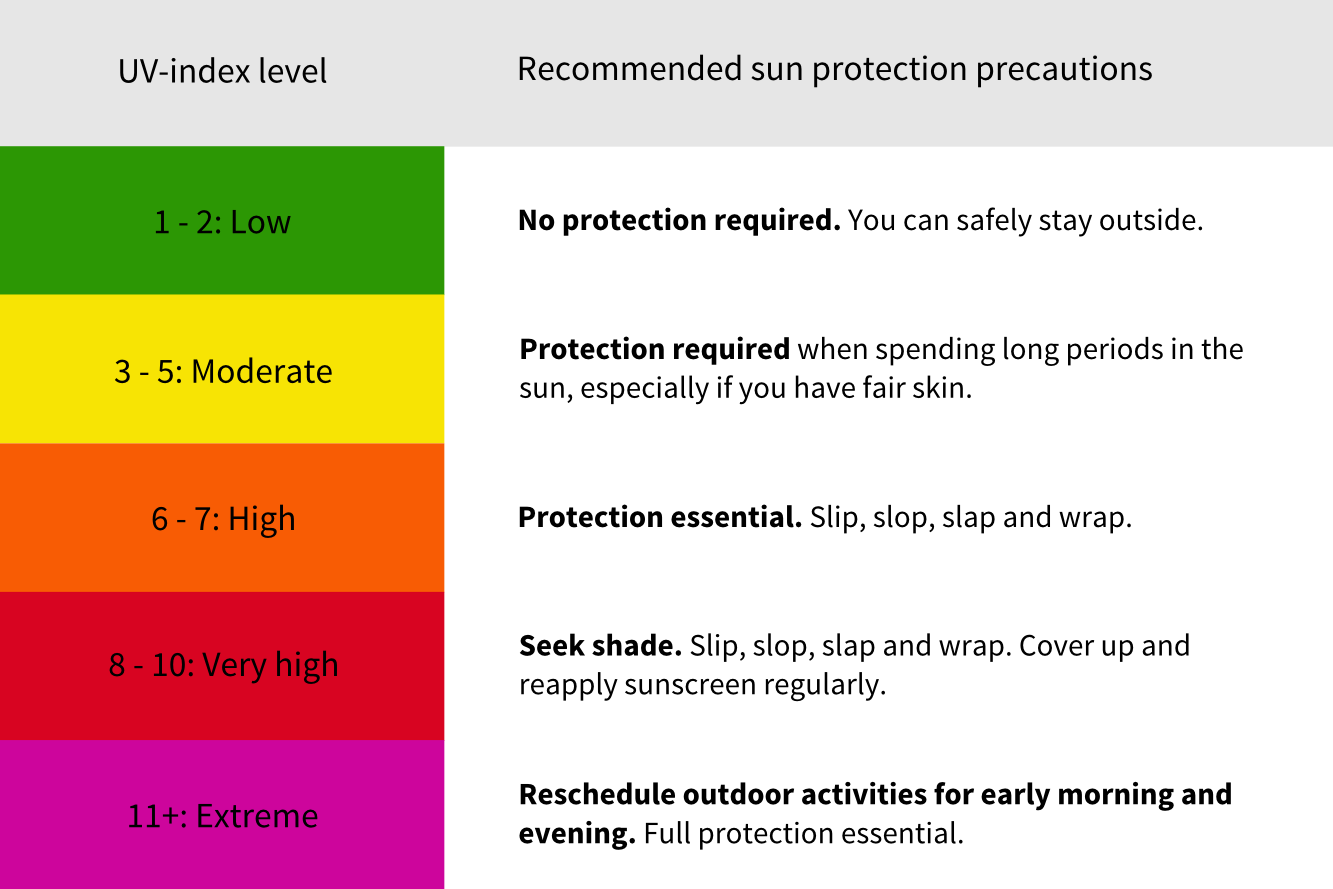 Source: McKenzie 2008 [1]
References
1. McKenzie R. 2008. A Climatology of UVI for New Zealand. Wellington: NIWA.
2. Kotkamp M, McKenzie R, Johnston P, Shiona H, Forgan B, O'Neill M, et al. 2010. Two Decades of Spectral UV Measurements. Paper presented at the 2010 UV workshop, Queenstown, New Zealand. Available at: https://www.niwa.co.nz/our-services/online-services/uv-and-ozone/workshops/papers/papersindex
3. Liley JB, McKenzie R. 2006. Where on Earth has the highest UV? Paper presented at the 2006 UV Workshop, Dunedin.