Health effects of hazardous substances
This section provides information that helps us to monitor injuries and diseases from hazardous substances exposure.
These data came from several different data sources likely to collectively capture hazardous substances injuries of different severity. These include deaths, hospital discharges, lead absorption and hazardous substances notifications, hazardous substances incidents, and National Poisons Centre calls.
Downloads
Forty-nine people died in 2015 from hazardous substances exposure
In 2015, there were 49 hazardous substances-related deaths registered in New Zealand. This represents a 57 percent decrease in the number of hazardous substances deaths since 2006 (88 deaths).
Between 2006 and 2015, the male age-standardised mortality rates from a hazardous substance were higher than the rates for females (Figure 1).
Figure 1: Age-standardised rate (ASR) per 100,000 population of hazardous substances-related deaths, 2006-2015
Carbon monoxide caused the majority of hazardous substances-related deaths
Toxic effects of carbon monoxide caused 430 deaths between 2006 and 2015. Death from carbon monoxide exposure was most common in the 45-64 age group (170 deaths) and 25-44 (158 deaths) year age group.
Over 600 hospital discharges from hazardous substances exposure each year
Between 2006 and 2018, there were 8,997 hospital discharges attributed to hazardous substances exposure – an average of 692 per year. In 2018, there were 704 hazardous substances-related hospital discharges.
Males continued to have higher hospital discharge rates than females (Figure 2).
Figure 2: Age-standardised rate (ASR) per 100,000 population of hospital discharges from hazardous substances by gender, 2006-2017
Young children at risk from hazardous substances exposure
From 2006 to 2018, marked differences were evident in age-specific hazardous substances-related hospitalisation rates. Compared to all other age groups, children under five years old continued to have higher rates from hazardous substances exposures (Figure 3). These results are similar to those previously found [1,2].
Figure 3: Hospitalisations related to hazardous substances, by age group, 2006-2018 (age-specific rate per 100,000)
Lead absorption notifications have decreased since 2013
There were 170 notifications of lead absorption in 2018. For those 15 years and over, the notification rate of lead absorption has decreased by 59% since 2009 (Figure 4).
Figure 4: Lead absorption notification rate, by year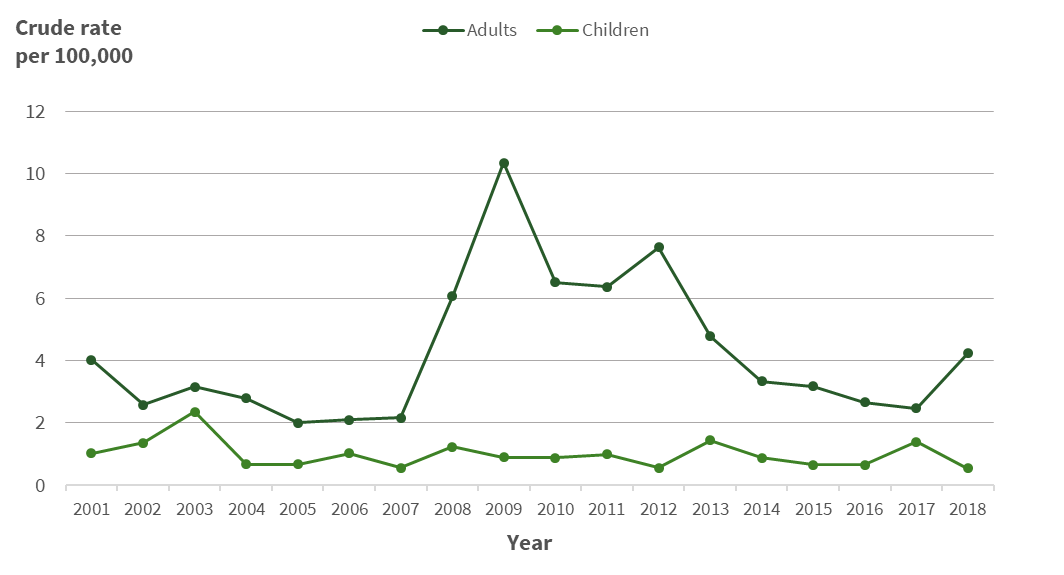 Note:
In 2007, direct laboratory notification was introduced, the non-occupational notifiable blood lead level was lowered from 0.72 to 0.48µmol/l and enhanced occupational screening was introduced in the Auckland region.
In 2013, the Hazardous Substances Disease and Injury Reporting Tool (HSDIRT) was rolled out to all health districts. Repeat blood lead level tests taken within a year of the original test has been excluded from this data unless further investigation has resulted.
Notifications peaked in 2009, with around 50 lead absorption cases associated with repainting the Auckland Harbour Bridge. This was drawn to the attention of the then Department of Labour (now Worksafe NZ) who revised their Guidelines for the Medical Surveillance of Lead Workers in 2011. These guidelines state that employers must ensure that medical surveillance is provided to all workers involved in lead work.
Painters were the most exposed to lead
In 2018, there were 75 lead absorption notifications where occupation was recorded as the source of exposure. The most common occupations were:
Painter (34 notifications)
Unknown (21 notifications)
Decorator (6 notifications)
Hazardous substances notifications similar in 2018
There were 106 hazardous substance notifications in 2018 involving adults (15 years and over, 2.7 per 100,000),
and 28 involving children (0 to 14 years, 3.0 per 100,000).
In 2018, there was no significant difference in hazardous substance notifications for males and females.
Across all age groups, the 0-4 year age group had the highest rate of notifications (4.6 per 100,000).
Fire and Emergency New Zealand attends around 1,200 hazardous substances incidents every year
From 2009 to 2016, Fire and Emergency New Zealand attended 9,918 hazardous substances incidents (Table 1). This is an average of about 1,239 incidents every year. The highest number of incidents (1,436) was reported in 2010 followed by 1,354 incidents in 2015.
There was a drop in the number of incidents in 2011 and 2012 due to industrial action.
Table 1: Number of hazardous substances incidents for each alarm level, 2009-2016
Total
1152
1436
1000
1112
1322
1256
1354
1286
9918
Alarm level
Year
Total
2009
2010
2011
2012
2013
2014
2015
2016
1
1142
1413
988
1093
1302
1234
1321
1265
9758
2
10
22
11
18
19
17
30
18
145
3
1
1
1
1
5
2
11
4
1
3
4
Source: Fire and Emergency New Zealand
Most calls to Poisons hotline were related to children
The National Poisons Centre (NPC) received 4,297 calls concerning hazardous substances in five months of 2016. Over 50 percent were related to children under five years (Table 2).
Household products were the most common exposure across all age groups (2,805 calls) (Table 2).
Table 2: Number of hazardous substances-related calls to the National Poisons Centre, by age group and substance classification, 2016
Information about the data
These data exclude poisonings from medicines, drugs, food, alcohol, and carbon monoxide where the source was not from the combustion of gas from a cylinder.
Most hazardous substances injuries are considered acute (short-term, intense exposure) rather than chronic (prolonged low intensity exposure) events. Chronic harm from hazardous substances is hard to measure because it is often difficult to determine what caused the harm. This means that data on chronic harm is hard to find and likely to underestimate the number of people affected.
For more information about the data, see the

Annual Hazardous Substances Injury Report 201 (Dec 2017) (pdf, 1.1 MB).
For more information about our hazardous substances surveillance, go to the hazardous substances surveillance webpage.
References
1. McGuigan MA. 1999. Common Culprits in Childhood Poisoning: Epidemiology, Treatment and Parental Advice for Prevention. Pediatric Drugs 1: 313-4.
2. Yates KM. 2003. Accidental poisoning in New Zealand. Emergency Medicine 15(3): 244-9.
3. ESR. 2013. Notifiable and other diseases in New Zealand: Annual Report 2012. Porirua: Institute of Environmental Science and Research Limited. Available online: https://surv.esr.cri.nz/surveillance/annual_surveillance.php