Motor vehicles
This section provides the latest statistics on vehicle numbers and the average age of vehicles in New Zealand.
Motor vehicles produce air pollution, including particulate matter, carbon monoxide, nitrogen dioxide, sulphur dioxide and other gases. These air pollutants can have adverse health effects, including cardiovascular (heart) and respiratory (lung) diseases.
Diesel vehicles, older cars and cars not well maintained tend to produce more emissions. Recent evidence also shows that diesel engine fumes can cause lung cancer [1].
Downloads
More vehicles on our roads
The number of vehicles on the road has increased over time, to 4.2 million vehicles in 2017 [2]. About 77 percent of these vehicles (3.2 million) were light passenger vehicles (such as cars and light vans). Together with light commercial vehicles (581,000 vehicles, 14 percent of the fleet), light vehicles make up over 91 percent of the total vehicle fleet in New Zealand (Figure 1).
Figure 1: Number of vehicles in New Zealand, by type, 2000-2017
The number of diesel vehicles has increased steadily since 2000, particularly light diesel vehicles (Figure 2). In 2017, diesel vehicles made up about 18.5 percent of all light vehicles, and over 97 percent of trucks and buses (Figure 3). Diesel vehicles produce more particulate matter and nitrogen dioxide than petrol vehicles, but less carbon monoxide [3].
Figure 2: Number of diesel vehicles, by vehicle type, 2000-2017
Figure 3: Percentage of vehicles that are diesel, by vehicle type, 2017
New Zealanders have a high car ownership rate
In 2017, New Zealand had 792 light vehicles per 1,000 people (Figure 4). This rate represents one of the highest levels of car ownership in the world [2].
Car ownership rates varied across the country and the three regions with the highest ownership rates were all in the South Island: Nelson-Marlborough, Southland, and Canterbury .
The region with the lowest car ownership was Gisborne with 658 light vehicles per 1,000 people in 2017.
Figure 4: Light vehicle ownership, by region, in 2017 (rate per 1,000 people)

Electric vehicle fleet increasing rapidly
In the first quarter of 2013, there were 118 pure electric, 7 plug-in hybrid and 73 heavy electric vehicles in New Zealand. These numbers were increasing rapidly and in the fourth quarter of 2018, there were 8,787 pure electric, 2,834 plug-in hybrid and 127 heavy electric vehicles in the New Zealand motor vehicle fleet (Figure 5).
Figure 5: Number of electric vehicles in New Zealand, by vehicle type, Quarter 1 2014 - Quarter 4 2018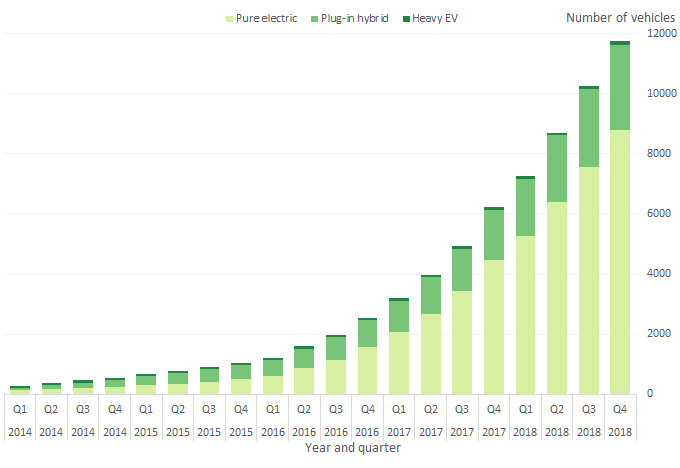 Light electric vehicles are making up a larger proportion of light vehicle registrations in December 2018 (2.4 percent) than in in January 2014 (0.03 percent) (Figure 6).
Figure 6: Percentage of light vehicles that are electric vehicles, January 2014 - December 2018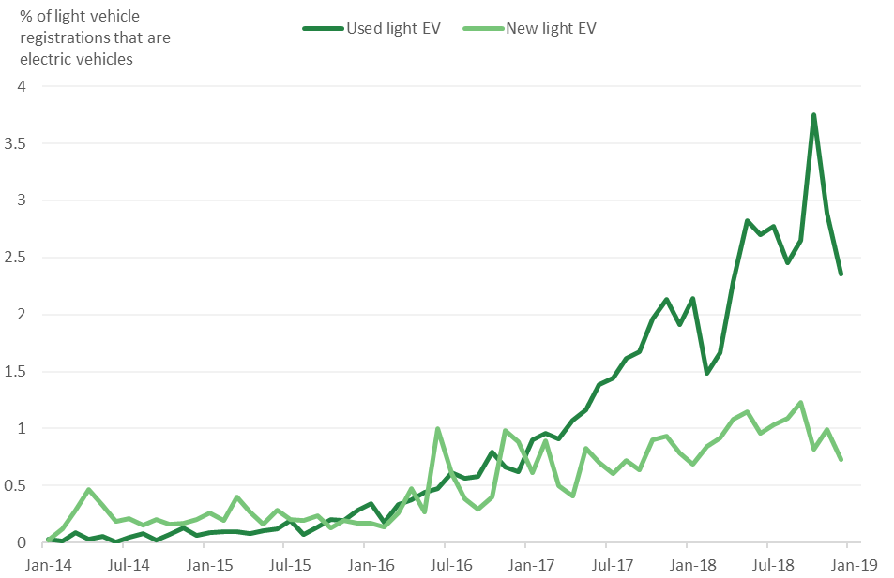 The vehicle fleet is getting increasingly older
Between 2000 and 2018, the average age of light passenger vehicles, motorcycles and trucks has increased (Figure 7). In 2018, trucks had the oldest average age (17.8 years), followed by motorcycles (17.0 years), buses (15.9 years), light passenger vehicles (14.4 years), and light commercial vehicles (12.3 years).
Figure 7: Average age of vehicle fleet, by type, 2000-2018

In 2000 almost 25% of the light vehicle fleet was 15 years or older, in 2018 it was 36% (Figure 8). One in five cars of the light vehicle fleet was older than 20 years in 2018.
Figure 8: Age structure of the light vehicle fleet, 2000-2018
New Zealand's light vehicle fleet is old by international standards
The New Zealand light vehicle fleet is older than the fleet in the United States, Australia, and Canada. In 2018, the New Zealand light vehicle fleet was more than four years older on average (14.1 years) than Canada's vehicle fleet (9.7 years).
Information about the data
Vehicle numbers and average age
Source: Ministry of Transport – The New Zealand Vehicle Fleet Annual Statistics and Monthly electric and hybrid light vehicle registrations/tables
Definition: Number and average age (years) of vehicles in the New Zealand vehicle fleet. Six categories of vehicles are used:
light passenger vehicles (passenger cars and vans)
light commercial vehicles (the following if under 3500 kg: goods vans, trucks, utilities, buses and motor caravans)
trucks (the following if over 3500 kg: goods vans, trucks, utilities and motor caravans)
buses (those over 3500 kg)
motorcycles (including mopeds)
electric vehicles (including pure electric and plug-in hybrid vehicles).
References
1. Benbrahim-Tallaa L, Baan RA, Grosse Y, Lauby-Secretan B, El Ghissassi F, Bouvard V, et al. (2012). Carcinogenicity of diesel-engine and gasoline-engine exhausts and some nitroarenes. The Lancet Oncology 13(7): 663-664. doi: 10.1016/S1470-2045(12)70280-2
2. Ministry of Transport. 2019. Vehicle Fleet Statistics 2018. Wellington: Ministry of Transport. Available online: http://www.transport.govt.nz/research/newzealandvehiclefleetstatistics/
3. Kuschel G, Bluett J, Unwin M. (2012). Trends in Light Duty Vehicle Emissions 2003 to 2011: Auckland Council technical report TR2012/032. Prepared by NIWA and Emission Impossible Ltd for Auckland Council.
Interested in more information?